Den underbara våren är äntligen här och den härliga vårsolen får oss att klä av oss en del och visa våra bleka ben och nyllen. Det finns mycket att tänka på när det gäller solen och solskydd, jag tänkte ta upp några saker som ni förhoppningsvis kan tänka på i vår och sommar. Först och främst, du blir varken snabbare brun eller mer brun om du struntar i solskydd, det tror jag fortfarande är något som en del tycks tro. Så är det alltså INTE! Det enda det medför är att du blir snabbare bränd, och tydligen så ligger vi svenskar väldigt högt på listan när det gäller att bränna sig om man jämför med andra nationaliteter. När vi bränner oss så är det en brännskada och det innebär att det blir en skada i cellernas DNA, och det kan i sin tur leda till hudcancer. År 2011 så upptäcktes det 3350 fall av hudcancer malignt melanom, och det är tyvärr en cancerform som ökar väldigt snabbt i vårt land. (Källa: Cancerfonden.se och Apoteket.) Det här måste vi ändra på eller hur? Det handlar mycket om okunskap tror jag, det kan tyckas konstigt i det informationssamhälle vi lever i, men också av ren dumhet, vi tror att det drabbar alla andra och inte en själv, jag kan bara gå till mig själv som har tänkt så i många år.
The wonderful spring is finally here and the lovely spring sun makes us undress  some and show our pale legs and faces. There is a lot to think about when it comes to the sun and sun protection, I thought I'd address some things that you hopefully can think about this spring and summer. First and firemost, you won't get tanned faster or more tanned either if you ignore sun protection, I think it's still something, some of us thinks. Well it's NOT so! The only thing it brings is that you'll get burnt faster, and appearently us Swedes is very high up on the list when it comes to sunburn if you compare to other nationalities. When we burn ourselves it's a scorch and that means that it'll be a injury in the cells DNA, and that can lead to skin cancer. In year 2011, 3350 cases of skin cancer was discovered, and unfortunately it's a form of cancer that spreads very quickly in our country. (Source: Cancerfonden.se and Apoteket.) We have to change this, right? It has to do a lot of ignorance I think, it can seem strange,  this information society we live in, but also of pure stupidity, we think that it affects everyone else but ourselves, I can just think of myself, I've been thinking this for many years.
Så vad ska man då tänka på undra ni? Jo det finns en hel del du kan göra, såsom:
*Sök skugga mellan kl. 11-15 (Solen är som starkast då, så du kan söka dig till skuggan under de timmarna)
*Skydda dig med kläder. (Det är ändå ett väldigt enkelt och effektivt solskydd, väldigt viktigt att tänka på med småbarn)
*Använd solkyddsmedel med hög solskyddsfaktor. (Använd vattenfast solskyddsmedel med hög faktor, mer än 15, och som skyddar mot både UVA- och UVB-strålning. För att det ska ha någon effekt bör du ha på ett tjockt lager. Detta ska man upprepa om man badar, men även efter att ha vistats i solen några timmar.)
So what should we think of, you may wonder? Well there is something that you can do, like:
*Seek shadow between 11-15 a.m. ( The sun is strongest then, so you can seek shadow during those hours.)
*Protect yourself with clothes. ( It's an easy and effective sunprotection, very important to think of this with small children)
*Use sunprotection with high SPF. (Use SPF that's waterproof and has high SPF, more than 15, and that protects against both UVA- and UVB-radiation. Apply a thick layer, for best effect. You should repeat this if you take a bath or if you have been in the sun for a few hours.)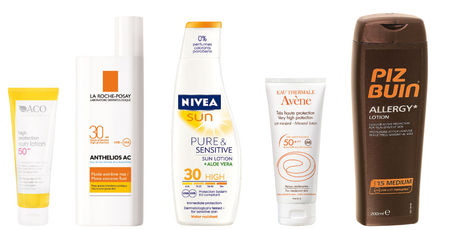 Om du inte bryr dig om detta, så kanske det finns en till sak som kan få dig att ändra dig. Solen kan påverka huden i ditt ansikte, så du som vill se bra ut och inte ha så mycket rynkor, för mycket solande och inget skydd kan leda till att huden blir tjock och grov och man får tunna, fina rynkor. Du tappar elasticiteten och spänsten i huden. Vem vill ha fler rynkor? Inte jag, det räcker gott med dem jag har. Så jag smörjer in mig ordentligt med solskyddskräm, gör du det också?
If you don't care about this, then maybe there is one more thing that can get you to change your mind. The sun can affect the skin in your face, so you that want to look your best and not have so much wrinkles, too much tanning and no protection can lead to that the skin gets thick and rough and you'll get thin wrinkles. You'll lose elasticity and vitality in the skin. Who want's more wrinkles? Not me, it's quite enough with the ones I already got. So I'm using a lot of sunprotection, will you do it too?