Jag vill att ni som läser min blogg ska kunna få tips på bra produkter som ni vet att jag använt en tid och kan ge ett rättvist utlåtande om. Sådana recensioner dyker upp ibland som ni märkt, nu var det ett tag sedan och därför tänkte jag ge er en sådan idag. Ni som hängt med i bloggen ett tag, vet att jag lovordat Moroccan Oil, som jag använt en längre tid. Idag så skulle jag vilja ge er en recension om Moroccan Oil Treatment, som är en hårprodukt som passar alla hårtyper.
Första gången jag kom i kontakt med denna så fick jag en provflaska, och efter att ha använt upp den, så var jag bara tvungen att beställa en ny. Det är en styling-, ytbehandlings- och närande hårprodukt som vårdar håret. Jag tar i en klick efter jag tvättat håret och masserar in den ordentligt. Den luktar underbart gott, vilket är ett plus för mig. Den tar bort friss och reder ut håret samtidigt som den bygger upp håret och ger en fin glans. Så många bra egenskaper för den här oljan gör att den är ett måste på badrumshyllan för mig. Hur kan den vara så här bra då? Jo för den är rik på vitaminer, antioxidanter och protein.
Du kan köpa den i olika storlekar, vilket är bra för de som vill prova på, då köper man en mindre flaska till att börja med. Sedan gissar jag på att ni gör som jag, köper den större flaskan, då medföljer en smart doseringspump. Jag kan verkligen rekommendera den här oljan. Mitt hår har verkligen fått en ny kick och mår mycket bättre sedan jag började använda den här. Var hittar man den här fantastiska oljan då undrar ni? Jo, beställ den hos Bangerhead.se så får du en snabb leverans.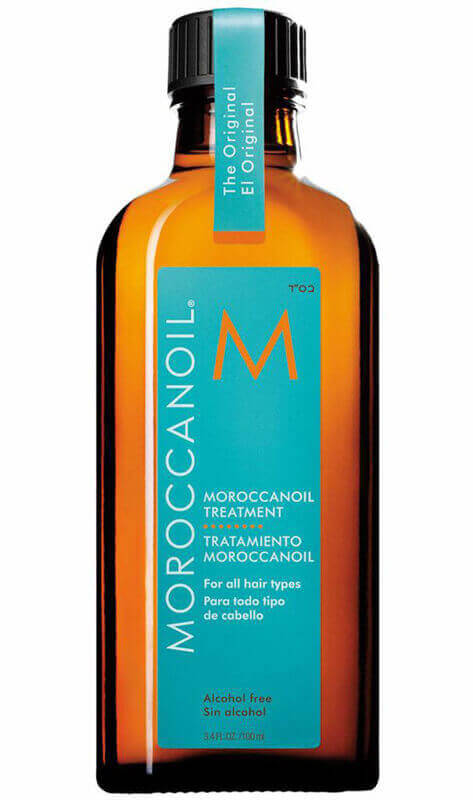 I want you that reads my blog to get good tips on great products that you know that I been using for a while and can give you a fair review on. Those reviews appears sometimes in my blog, today I'll give you such a review. You that have been reading my blog for a while knows that I've been praised Moroccan Oil, that I've used for a while now. Today I want to give you a review of Moroccan Oil Treatment, that is a hair product that is for all hair types.
The first time I came in contact with this one, I got a sample, and after I used it all, I just had to order a new one. It's a styling-, finishing- and nourishing hair product that nurtures the hair. I apply an amount of it in newly washed hair and massages in properly. It smells wonderful, which is a big plus for me. It removes frizz and sorts out the hair at the same time that it builds up the hair and gives it a nice shine. So many good qualities for this oil makes it a must on my bathroom shelf. How can it be so good then? Well, it's rich on vitamins, antioxidants and protein.
You can buy it in different sizes, which is good for those who want's to try it out, then you buy a smaller one for starter. Then I guess you'll be doing like me, buy the bigger bottle, becuase then it comes with a smart dosage pump. I can really recommend this oil. My hair has really got a new high and feels a lot better since I started to use this. Where can you buy this amazing oil you might wonder? Well order it on Bangerhead.se, then you'll get a fast delivery.